Poroshenko: Russia's "green men" are landing in Syria and causing more violence and exodus to the EU
Donald Trump's Remarks to a Pro-Ukraine Conference
Elton John in Kiev YES Ukraine 2015
Yay for Irredentism! Victoria Nuland Promises Yalta's Return to Ukraine
Speaking at the Yalta European Strategy forum in Kiev on Saturday, US Assistant Secretary of State Victoria Nuland raised quite a stir among Ukraine's irredentist politicians, saying that the city of Yalta would one day return to Kiev's control.
Victoria Nuland has flown to Kiev, Ukraine, to participate in a strategy meeting.
Nuland's remarks featured rhetoric on stopping Russian aggression, praise for the Ukrainian leadership's great successes in reforming Ukraine's economy and tackling corruption, and promises that the US would continue to assist Ukraine, including its armed forces.
"You have stopped the Novorossiya project in its tracks, stabilized the financial system and created a new police force…Many challenges remain ahead. There will be losses in the fight against corruption. But there should be no tolerance for the oligarchs," Nuland noted, cited by Ukrainian newspaper LB.ua.
"We are providing Ukraine with continuous assistance. The United States, more than any other country, has supported the Ukrainian army. This is part of the reason why Ukraine has been able to stop the offensive in the east."
But the remarks which caused the most excitement among Ukrainian officials and foreign hawks alike was a statement Nuland made at the beginning of her speech about the Yalta European Strategy forum one day returning to its home city of Yalta, Russia. ...............
Earlier Saturday, Ukrainian Prime Minister Arseniy Yatsenyuk made an appeal for the West not to flinch, to keep maximum pressure on Moscow, and to keep Ukraine "on their radar," because Russia is really "fighting not only against Ukraine; the Russian president is fighting against the free world."
Yatsenyuk grudgingly admitted that the Minsk Agreement is the only option for peace available at the moment, but declared that relations between the West and Russia should not be allowed to stabilize until Russia's phantom 40,000 troops pull out of eastern Ukraine and Moscow returns Crimea to Ukrainian control.
The prime minister also boasted that Russian leadership, including President Putin, has "trapped" itself in Donbass, adding that "if [Putin] attacks the Ukrainian army and tries to capture more territories, he will die."
The prime minister's words follow on similarly provocative commentary made by President Poroshenko on Friday.
In comments which he has since declared were misinterpreted, the president announced that "now it is high time to discuss the possibility to deploy an operation in the Donbass to support due implementation of the Minsk Agreement." The president noted that peace could be achieved only when "Russian occupation forces" withdraw from Donbass and Ukraine closes its border with Russia.
\Read more:
http://sputniknews.com/politics/20150912/1026920002.html#ixzz3lXvwXZqK
Putin and Berlusconi enjoy seaside stroll in Yalta, Crimea, Russia
/
Teenage protesters steal goods from supermarket in action against high prices in Kiev, Ukraine
Russia's Putin welcomes Ukraine ceasefire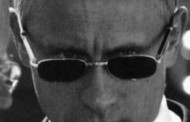 Russia's President Vladimir Putin says Donbass future should be
decided not by Russia. "Our souls and hearts are with Donbass. However,
h...
Read more