Hellish Explosive Potential Incinerates a Square Mile
Published time: 13 Apr, 2017
(RT)
The US military has used its GBU-43/B Massive Ordnance Air Blast Bomb (MOAB), nicknamed "the mother of all bombs," for the first time in combat. The US Air Force used it in Afghanistan to target Islamic State tunnels and personnel.
The 21,000-pound (9,525 kg) bomb was dropped in the Achin district of the Nangarhar province in eastern Afghanistan.
The Pentagon has confirmed the use of the MOAB, and is currently assessing damage. General John Nicholson, commander of US forces in Afghanistan, signed off on its use, CNN reported. Authority was also sought from General Joseph Votel, commander of US Central Command (CENTCOM).
The Air Force developed the MOAB in 2003, but it had never been used in combat until 7pm local time on Thursday. The Pentagon produced 15 MOABs at a cost of $16 million per unit,
according to
military information website Deagel.
The use of the bomb comes as the US involvement in Afghanistan heads into its 16th year in the fall, and days after Staff Sergeant Mark De Alencar, a US Special Forces operator, was killed in the same region.
"The soldier was mortally wounded late Saturday during an operation in Nangarhar Province," US Navy Captain Bill Salvin tweeted.
READ MORE: US-led coalition airstrike mistakenly killed 18 SDF ally fighters in Syria on April 11 – Pentagon
The MOAB was designed to target large below-ground areas. It would have "feel like a nuclear weapon to anyone near the area," Lieutenant Colonel Rick Francona (ret.) told CNN.
The GPS-guided munition would have already been in country before it was dropped out of an MC-130 aircraft, operated by Air Force Special Operations Command, military sources told CNN's Barbara Starr.
U.S. military statement on GBU-43 bomb used against ISIS in Afghanistan: "U.S. Forces took every precaution to avoid civilian casualties."
pic.twitter.com/sWKRMhStvc
CENTCOM after U.S. drops GBU-43 bomb on ISIS targets in Afghanistan: U.S. "will continue offensive operations until ISIS-K is destroyed."
pic.twitter.com/qyrNXhpQbu
9:59 AM - 13 Apr 2017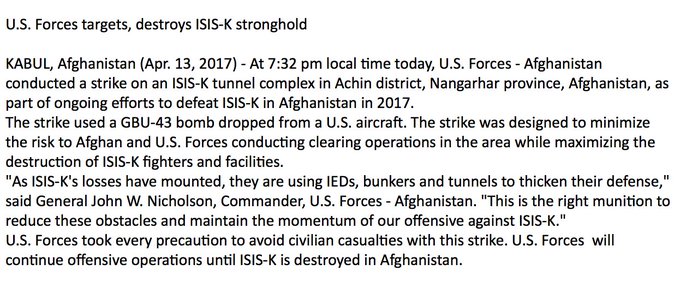 "The strike was designed to minimize the risk to Afghan and U.S. Forces conducting clearing operations in the area while maximizing the destruction of ISIS-K fighters and facilities," CENTCOM said in a statement, referring to Islamic State Khorasan, the branch of Islamic State (IS, formerly ISIS/ISIL) in Afghanistan, Pakistan and Uzbekistan.
Nicholson described the MOAB as "the right munition to reduce" the improvised explosive devices (IEDs), bunkers and tunnels IS is using to "thicken their defense." The bomb will also "maintain the momentum of our offensive against ISIS-K," he said.
The Air Force "took every precaution to avoid civilian casualties," CENTCOM said.
READ MORE: US Tomahawk strike on Syria as effective as dropping missiles from air balloons – Russia's MoD
President Donald Trump told reporters that he's given the military "total authorization," and "that's why they've been so successful lately."
When asked if the use of the MOAB in Afghanistan might send a message to North Korea amid increased tensions with the isolated country, Trump replied: "I don't know if it sends a message, I don't care if it does or not."
A peace conference on Afghanistan is scheduled to begin on Friday in Moscow, involving the Afghan government and representatives of twelve other nations. The US was invited to the conference, but reportedly declined to participate.
Meet the 'Mother Of All Bombs': 6 facts about bomb Trump dropped on Afghanistan
Published time: 13 Apr, 2017 21:09
Get short URL
FILE PHOTO: A GBU-43/B bomb, or Massive Ordnance Air Blast (MOAB) bomb © Global Look Press
US forces in Afghanistan have dropped America's biggest non-nuclear weapon on Islamic State positions on the Afghanistan-Pakistan border – the first time this particular bomb has been used in combat. What's so special about it?
READ MORE: US drops largest non-nuclear bomb on Afghanistan, first time used in combat
1. What's in a name?
The weapon's official designation is: Guided Bomb Unit, Massive Ordnance Air Blast. The acronym MOAB has also been rendered as the "Mother Of All Bombs." The name is likely a reference to Iraqi President Saddam Hussein's threat of the "mother of all battles" over Kuwait in 1991.
U.S. Bombs, Destroys Khorasan Group Stronghold in Afghanistan
https://t.co/oDhjzaLuUw
pic.twitter.com/xOMsYD5grt
— U.S. Air Force (@usairforce)
April 13, 2017
2. 14 years old and Vietnam-era Daisy Cutter's daughter
The weapon was first tested in March 2003, just before the US invasion of Iraq. The MOAB is descended from the BLU-82B 'Daisy Cutter,' a Vietnam-era bomb that weighed 15,000 pounds (6,800 kg) and was used to clear jungle and desert minefields. The weapon was used with devastating effect against Iraqi troops in 1991. The last of the 225 BLU-82s were expended by 2008 and officially replaced by the MOAB.
FILE PHOTO: The U.S. Air Force testing MOAB explosive device nicknamed the "mother of all bombs." © Department of Defense / Reuters
3. It is HUGE!
The GBU-43/B MOAB is the "monster truck of American ordnance," wrote self-described 'war nerd' columnist Gary Brecher in 2003. The MOAB weighs about 22,000 pounds, or just over 10,000 kg, and is the most powerful non-nuclear weapon in the US arsenal.
It is packed with H6 explosive, which is about 1.35 times more powerful than pure TNT for a 11-ton yield over a 1-mile (1.6 km) radius. The bomb itself is 30 feet long (almost 10 meters) and 40 inches (over 1 meter) in diameter and can only be dropped from specially modified C-130 transport planes.
Breaking news graphic I did to provide context to the destructive force of the MOAB that was used in Afghanistan today. via
@indystar
pic.twitter.com/PNaZnFbXu2
— Michael Campbell (@campbell_m)
April 13, 2017
FILE PHOTO: A Massive Ordnance Air Blast (MOAB) weapon © Reuters / Reuters
4. It is scary
The MOAB's function is primarily "shock and awe": it is an air-burst weapon, creating pressure intended to collapse tunnels or bunkers and obliterate any enemy personnel caught in the blast radius.
FILE PHOTO: A Massive Ordnance Air Blast (MOAB) weapon © DOD / AFP
5. It is expensive, costing $16 million apiece
The MOAB was built by the Alabama-based company Dynetics. The Pentagon has commissioned only 20 bombs, at a cost of $16 million apiece. The entire program cost about $314 million.
6. And, there's a Russian daddy
After the US tested the MOAB in 2003, Russia developed its own thermobaric weapon, nicknamed the "Father of All Bombs" and tested it in 2007. Very little is known about this weapon, but the Russian military says it is four times more powerful and has twice the blast radius of the American mega-bomb.
Potential smart bomb sales to Saudi Arabia prompt questions from US lawmakers
https://t.co/jl3y81XMtD
— RT America (@RT_America)
April 11, 2017